Turtle Snorkeling Oahu, Hawaii: the 7 spots for super meetings
Your dream comes true! It's time to mingle with the natives now that you've arrived on Hawaii's island of Oahu and it's a time to meet the Hawaiian sea turtles.
I have included all of the top beaches where you might be fortunate enough to see a turtle. Any of them will take you to the ideal locations where you may got a snorkel and have an eco-friendly interaction with dolphins and sea turtles.
---
Fascinating facts about Hawaiian Sea Turtles.
There are five different species of sea turtle that live in Hawaii. On Oahu, the green sea turtle, known as Honu in Hawaiian, is by far the most prevalent.
The Hawksbill sea turtle is the second most common, but it is far less usual to observe one. You probably won't see the Loggerhead, Leatherback, or Olive Ridley because they prefer to hang out in deeper waters.
The largest living marine turtles, leatherbacks, can weigh more than 2,000 pounds. However, you thrill seeker, you need not fear. Green sea turtles are also pretty big.
The entire life of a sea turtle is spent at sea. Given that a green sea turtle can live for anywhere between 30 and 80 years, it is a considerable amount of time spent underwater.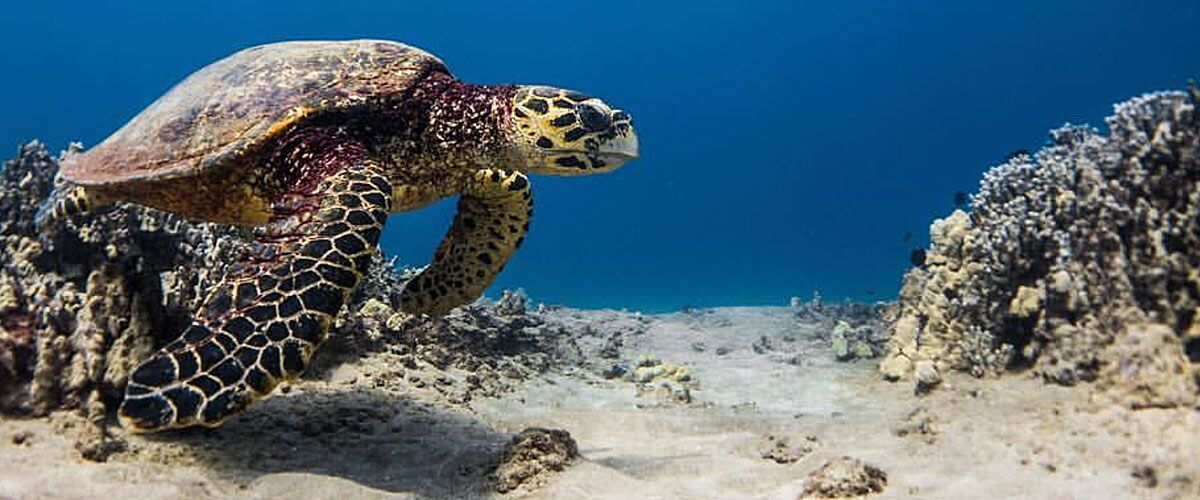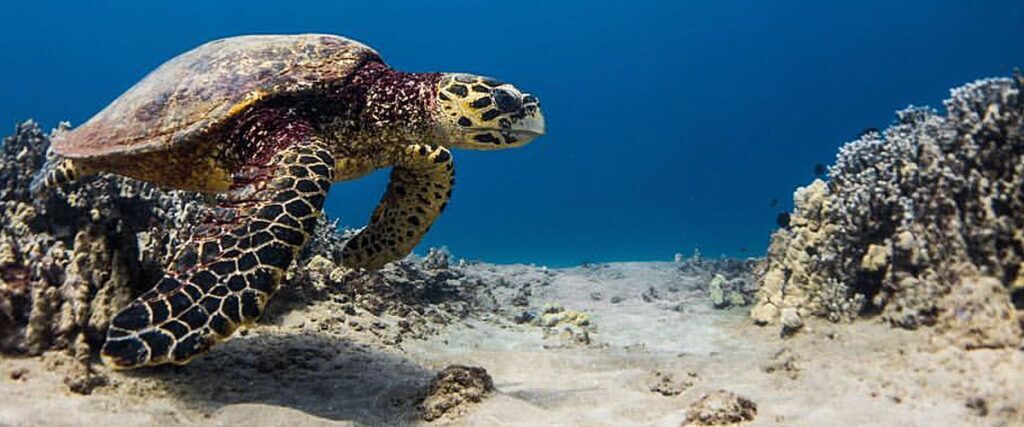 Although sea turtles are acclimated to the ocean, they still need air to breathe, so it's not unusual to occasionally see their heads poking above the surface.
Sea turtles occasionally migrate across entire oceans to feed on limu before returning home. For example, some Loggerhead turtles migrate from Japan to Big Sur, California for grub before coming home again.
Sea turtles eat algae, known as "limu" in Hawaiian. Limu is found in abundance around Hawaii's coral reefs, making the reefs an ideal site to discover sea turtles.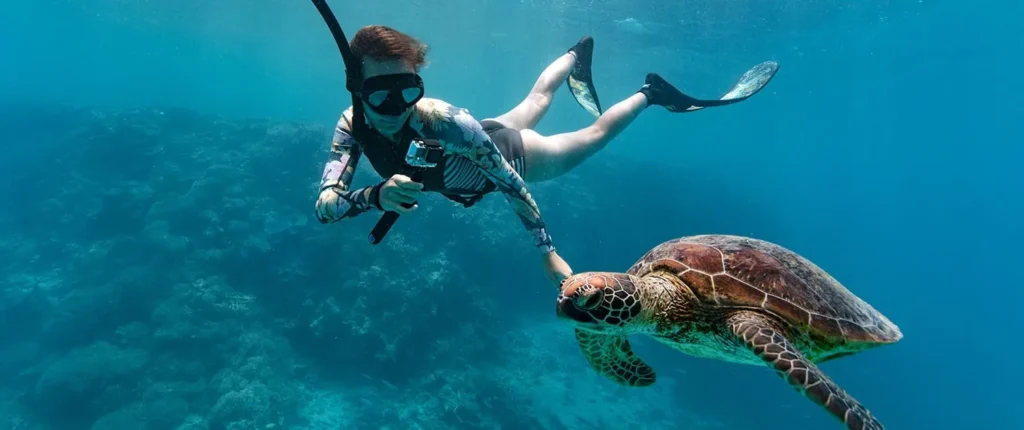 ---
Top Locations of Turtle Snorkeling Oahu, Hawaii.
According to our observations, the seven beaches described above are the best places to see sea turtles on Oahu:
1. Laniakea Beach (Turtle Beach): for turtle swimming on Oahu's North Shore
Laniakea is a highly popular tourist destination. Although it tops most lists of "Where to swim with turtles on Oahu", I urge you to visit other less-frequented locations.
However, if you're just looking for the best chance to spot a turtle without taking a tour, this is definitely your best option.
On the island's north shore is Laniakea Beach, and I suggest visiting between 11 a.m. and 1 p.m.
Even though it's a wonderful location to unwind, the winter months can be challenging for swimming because of the high waves and tricky currents. Always check the surf report before you go swimming.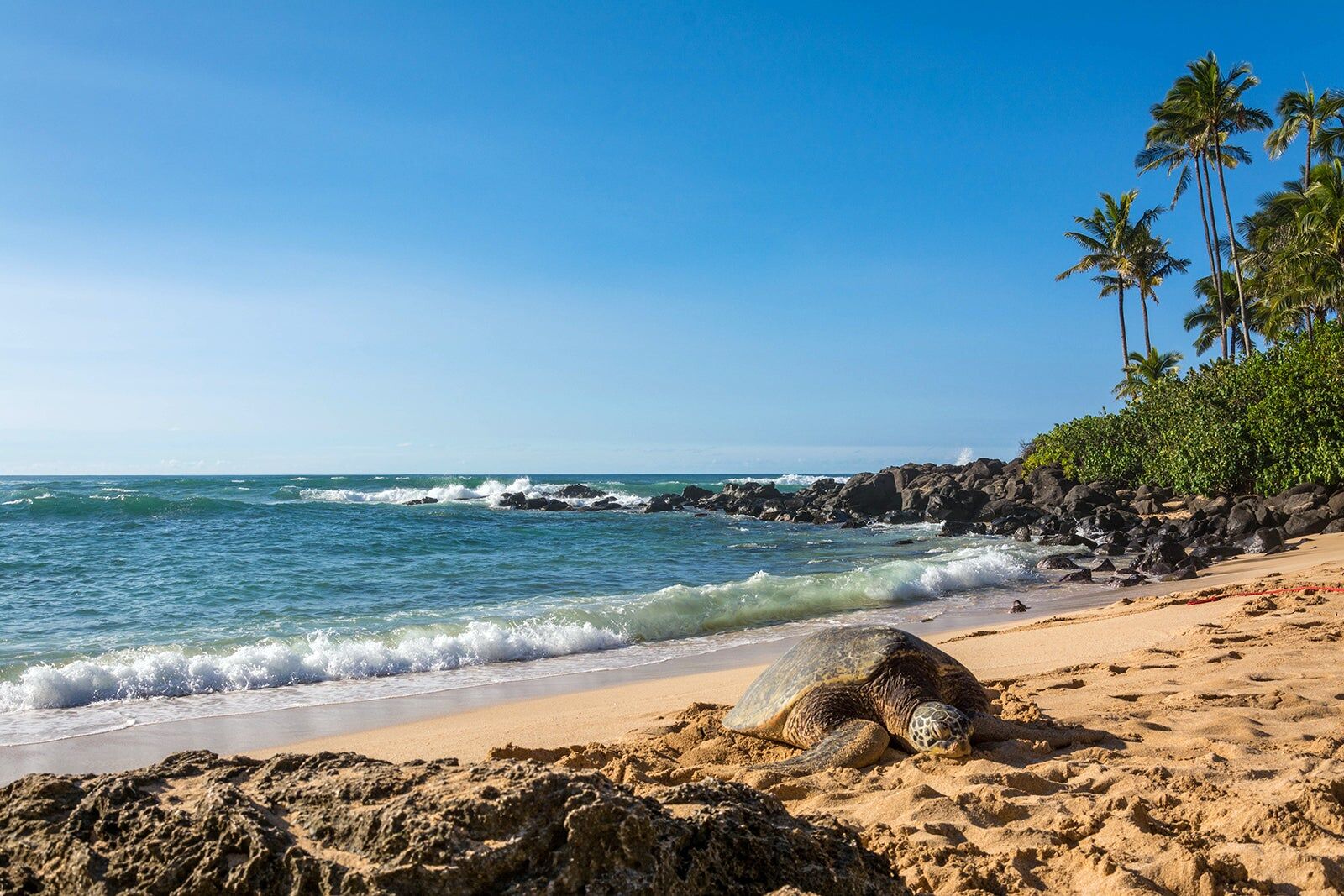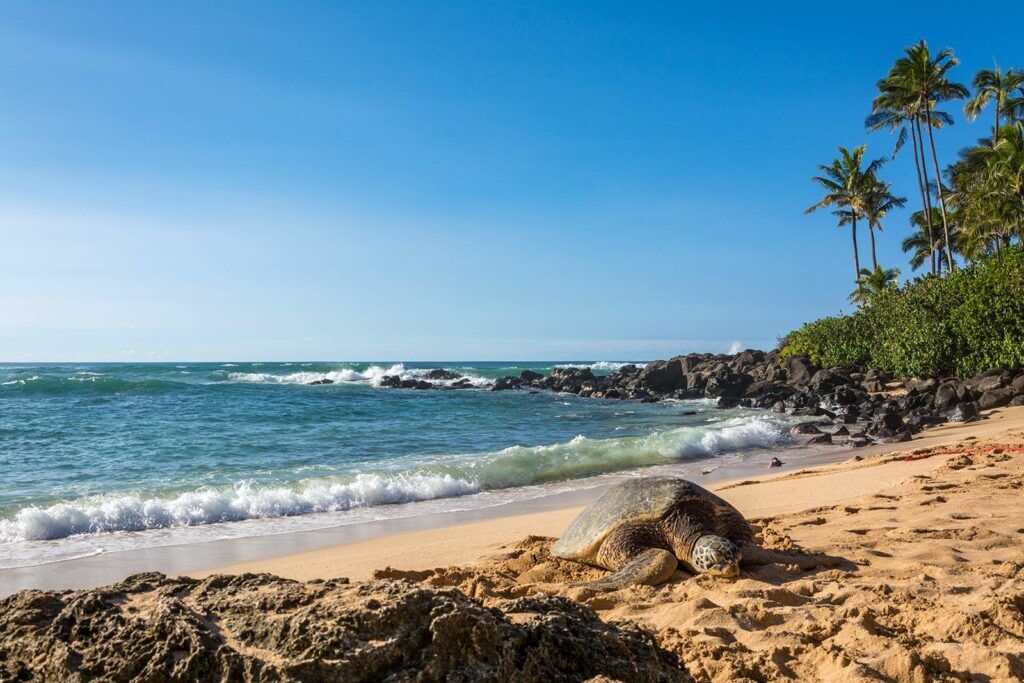 It's incredible to see turtles out of the water relaxing on the sand so frequently. To ensure that everyone is giving the turtles space, the beach is frequently patrolled by a volunteer.
However, their companions are presumably swimming in the tiny bay if there are turtles on the sand.
Regardless of your level of experience, the shallow surf makes it the ideal location to snorkel with sea turtles. Based on personal observation, there are lots of them to view here.
On Oahu, this region is known for having sea turtles, so much so that volunteers patrol the beach and put up signs to discourage people from approaching the turtles too closely.
Due to its reputation as one of the world's most stunning beaches, Laniakea beach fills up quickly. However, even if you don't want to swim with the sea turtles, you should still go because the scenery is worth seeing on its own.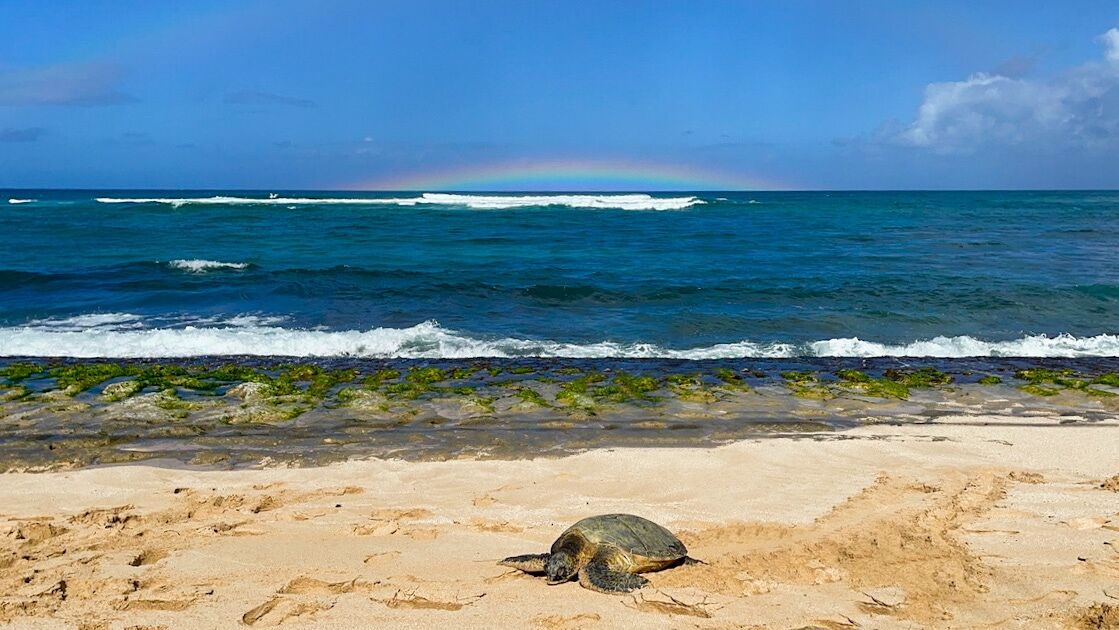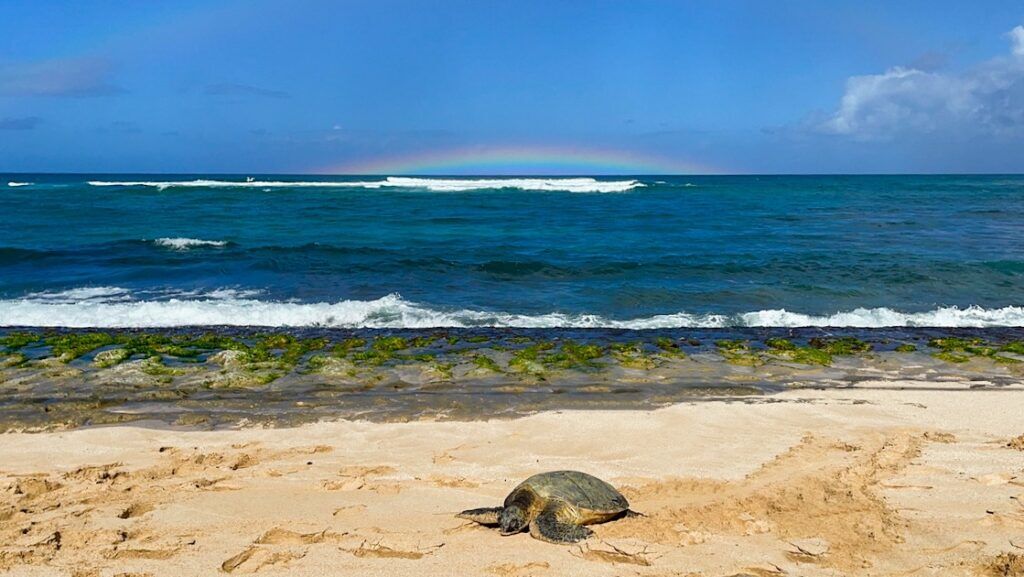 ---
2. Electric Beach (Kahe Point): for turtle swimming on the West side of Oahu
Although Kahe Point Beach Park is the place's full name, locals are more familiar with it by its colloquial appellation. The reason for the name Electric Beach is that a power station is located next to this small community. One of the best snorkel spots on Oahu is near the power plant due to the warm water that it produces. It doesn't have picture-perfect palm trees or a mile-long beach, but you don't come here for the scenery. Underwater is where the real action is.
Only those with a car are advised to visit Electric Beach because it is on the West Side of Oahu, about half an hour from Waikiki. You will be greeted with crystal-clear water and a wide variety of species after the 30-minute trip from Waikiki. Through the neighboring electric plant's somewhat warmer water and excellent water clarity, there is frequently a lot of sea life visible at this beach. If you're a competent swimmer, you might also see dolphins a little further out! Intense groups of angel fish and lots of other colorful tropical fish can all be seen in waist-deep water.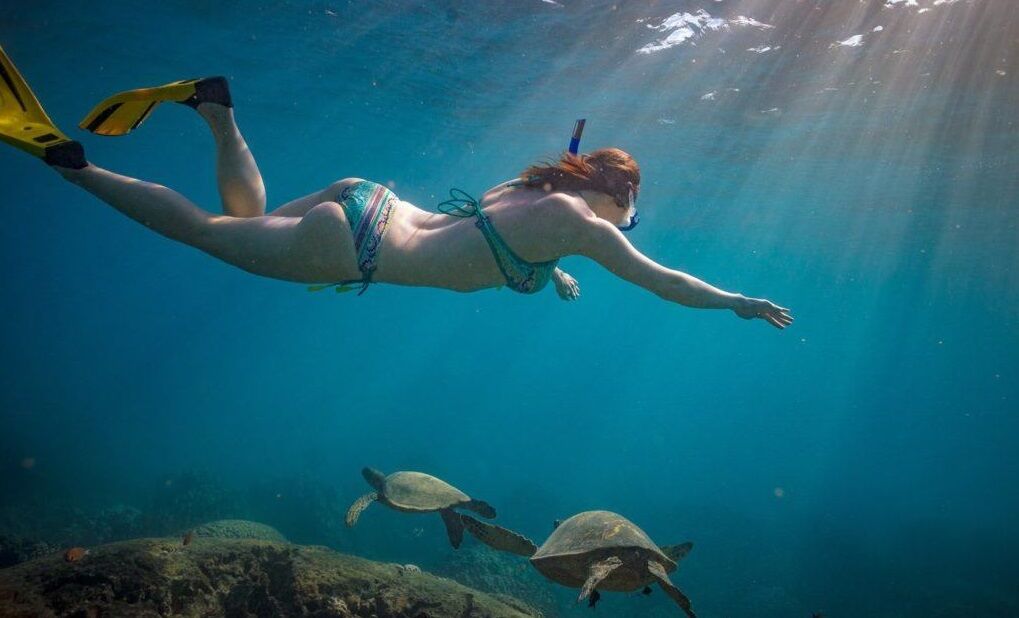 ---
3. Makua Beach on Oahu Island
A beach that most visitors are unaware of is located almost as far west as you can go, further than Electric Beach. Although the drive from Waikiki will take over an hour, the beach is well worth the time.
At Makua Beach, the water is crystal clear. The only way I can think of to describe the clarity of the water is to write that it is 100% clear. Within 100 yards of the shore, schools of fish and Hawaiian sea turtles are frequent sights.
If you move your gaze away from the marine life and turn back toward the beach, the Makua Valley and the mountains provide an incredible backdrop.
Dolphins frequently visit this area, especially early in the day. It's another excellent location to attempt to swim out to and interact with a group of playful Spinner Dolphins.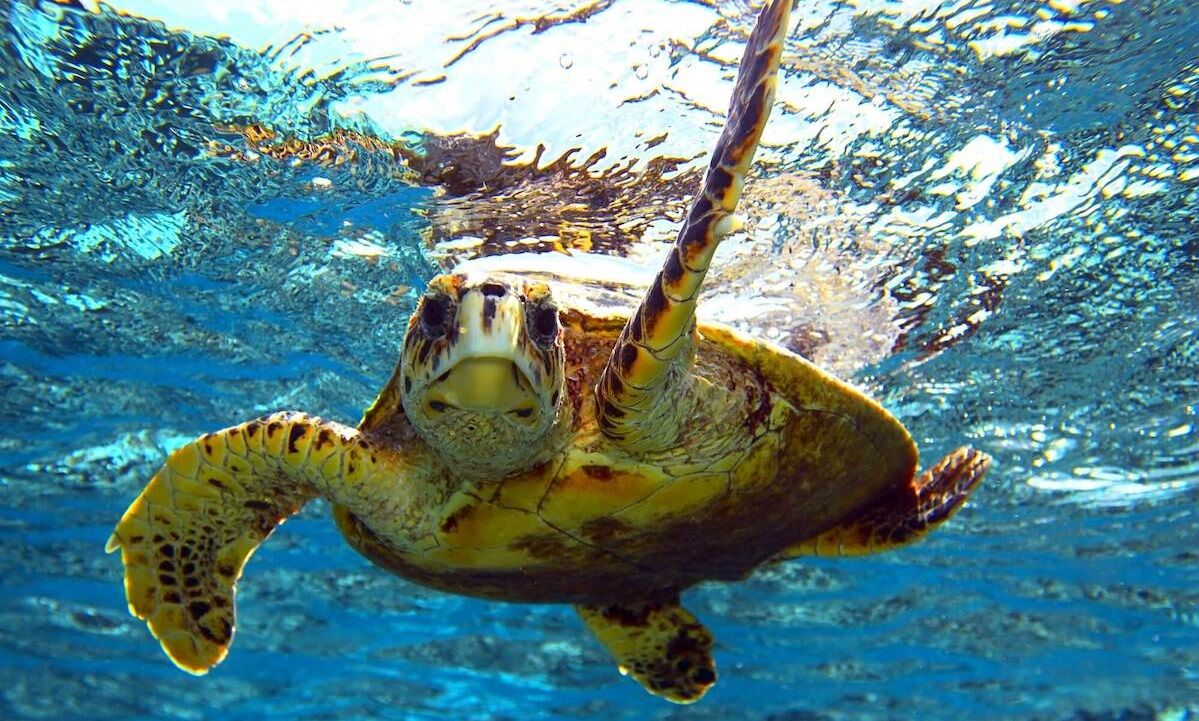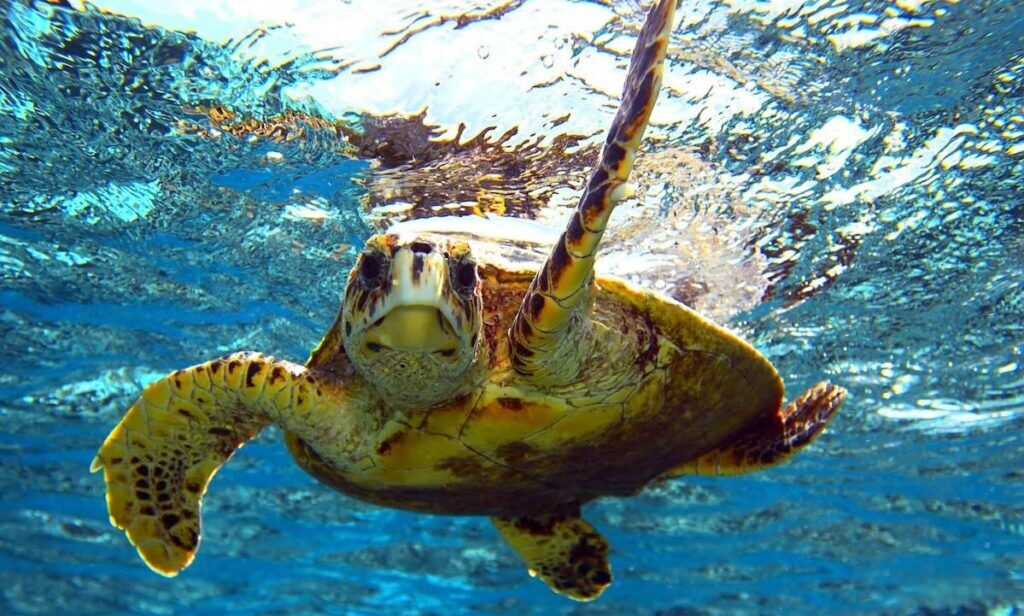 Due to the small number of visitors that make the trek over, Makua Beach often has the sensation of being kept a secret. However, the beach itself is stunning, and there's a good reason why photographers swarm there after sunset.
But Makua Beach on Oahu is fantastic for more than just taking beautiful pictures—it's also an amazing location to swing with sea turtles!
The clear water makes it easy to see everything, and the schools of fish that playfully pass by are beautiful to watch. As you travel farther offshore, your chances of sighting sea turtles grow, make the effort and you won't regret it.
---
4. Haleiwa Beach on the Oahu Island
Haleiwa Beach is just a short distance from Laniakea Beach on Oahu.
There are plenty of Hawaiian sea turtles on the North Shore, but Haleiwa Beach has a significant number.
They frequently inhabit the canal and the small bays around the beach there. Here, the clarity of water is also rather good. And this is very good for snorkeling with turtles.
The beach you can find near the Old Haleiwa.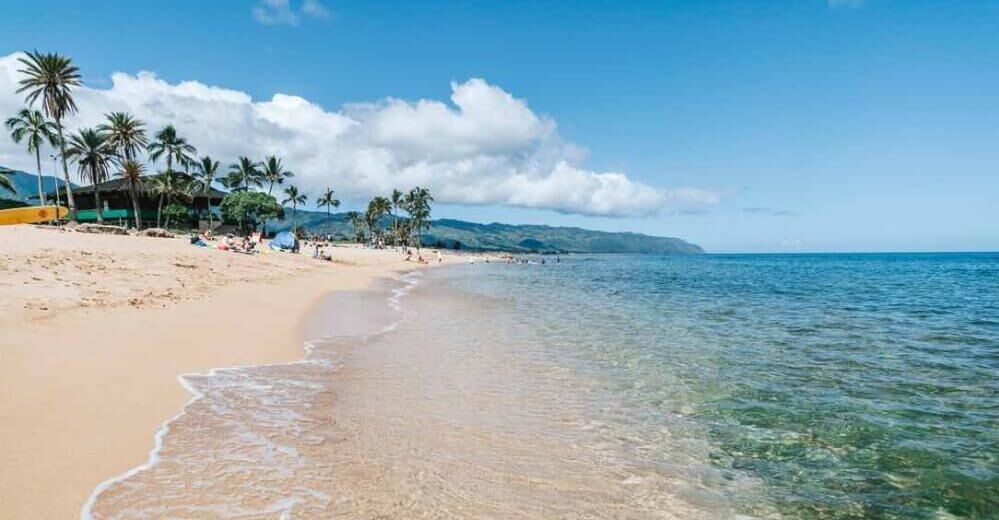 ---
5. Cockroach Cove (aka Kaupo Bay): for turtle swimming on the South shore of Oahu.
There is a small, picturesque cove near the well-known Halona Blowhole that is a great place to hang out for a half-day. A good place to go snorkeling, swimming, or rock-jumping is Cockroach Cove.
Cockroach Cove is begging to be explored since it is brimming with tide pools and fantastic snorkeling opportunities. Begginer swimmers should not attempt to swim in these waters. But for someone with snorkeling experience swimming here will be fantastic.
The water is occasionally motionless here, but it is frequently slightly waved.
Also, for the best snorkeling conditions, go here on a calm, sunny day.
You should check the weather forecast report before leaving. Even though snorkeling is not recommended due to rough water, this is a fascinating location to check out when on Oahu.
Hawaiian Sea Turtles can frequently be seen from the lookout because they are frequently found near the shore.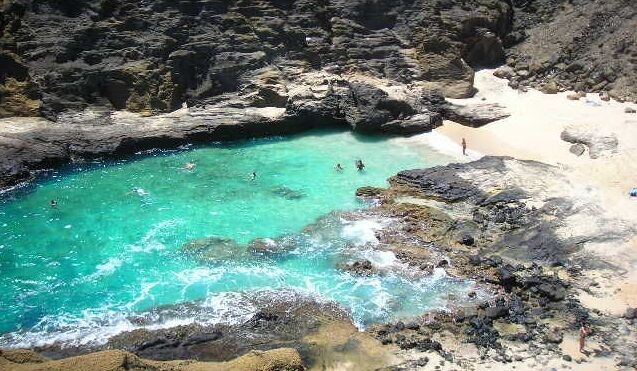 ---
6. Hanauma Bay Nature Preserve: a well-known tourist spot on Oahu for turtle snorkeling.
Hanauma Bay is a well-known nature reserve near Cockroach Cove and Sandy's Beach that is well-known for its turtles and sea life.
Every Tuesday, this facility closes for security reasons, so make plans accordingly. I also suggest getting there as soon as you can because by noon, the parking lot usually overflows.
An excellent site to see fish and marine turtles is in this natural reserve.
There's a reason Hanauma Bay is Oahu's best location for snorkeling. It's pleasant and shallow, simple for novices, and has lots of lovely reefs, fish, and, if you're lucky, sea turtles as well.
There is no need to purchase anything in advance because you can take advantage of renting snorkeling gear and lockers as well.
---
7. Waikiki Beach on Oahu and the Green Sea Turtle
Do sea turtles frequent Waikiki Beach?
Yes! You better believe it.
Even though it may not be the island's best snorkeling spot, if you are feeling lucky, you can take your snorkel gear and swim out just past the crowd of tourists at Waikiki beach. After that, you will have a good chance to spot a Hawaiian sea turtle.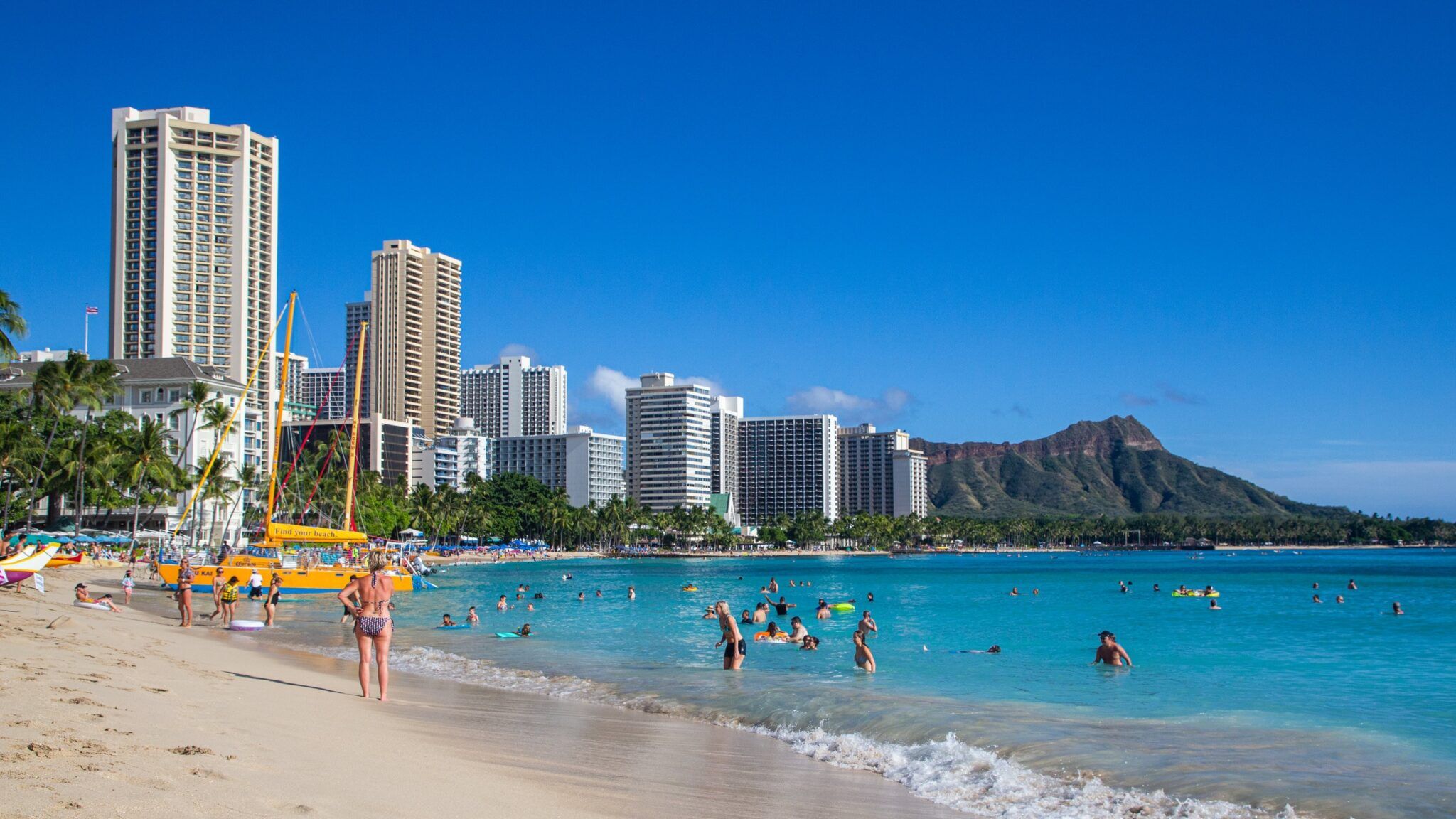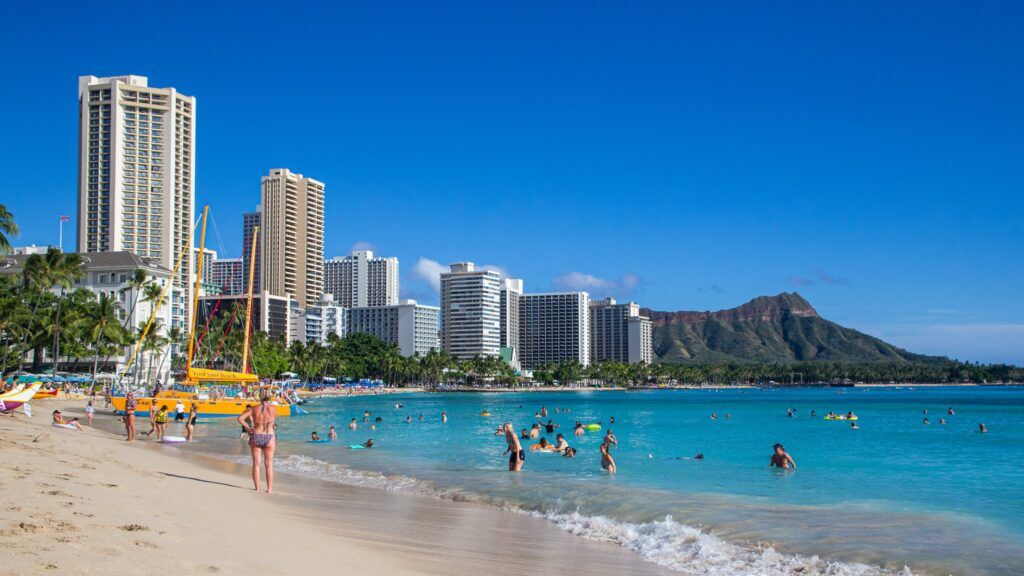 ---
---
---
Sea Turtle Swimming on Oahu: The Information You Need to Know.
Never handle marine turtles. Under the Endangered Species Act, sea turtles are given protection. In Hawaii, it is against the law to chase sea turtles, and the fine for doing so is $10,000. In Hawaii, sea turtles are revered, so keep at least 10 feet away from them to prevent disturbing them. Do not push your luck by encroaching on the space of these animals, instead, be grateful that they allow us to swim and dive with them.
The ideal time to visit sea turtles. Have you heard that there is the best time to see sea turtles? Your chances of seeing turtles will increase significantly if you take your snorkeling gear and try to swim with them from 11 a.m. to 2 p.m. In fact, all of our sightings and interactions took place at that time.
At all times, keep 5 yards clear of the sea turtles. Give them additional room in case something happens unexpectedly, since if you get too close, currents can unintentionally wash you into the turtle. It is forbidden to handle turtles. Keep at least 5 yards away so that you have room in case the waves push you in the direction of the turtle.
Avoid pursuing marine turtles. If a turtle is not attempting to socialize with you, there is no reason to startle it. A turtle will typically stay close to you for a long time if you are calm and relaxed around it. When you start to approach too closely and intimately, they frequently swim away. The more relaxed you and your party will be, the longer you can spend floating next to the turtle as it goes about its business. Your chance to spend time with a turtle is likely over the moment you begin chasing it.
Always approach them from the side when snorkeling to prevent frightening them.
Never feed sea turtles, despite the fact that it may seem like a good gesture, as this can interfere with their innate desire to fend for themselves. In Hawaii, it is against the law, and offenders face steep fines.
Put on reef-safe, biodegradable sunscreen. The majority of sunscreens contain chemicals that bleach the reefs, harming marine life in the process. Using reef-safe sunscreen will benefit both our coral reefs and our favourite underwater creatures.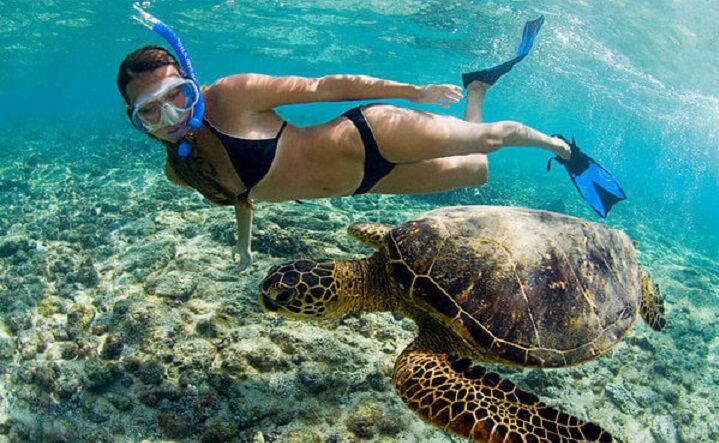 ---
---
---
Please take note of the following advice before going swimming with turtles in Hawaii.
You must know about the next indications that a turtle is feeling uncomfortable or stressed as a result of your existence:
the turtle covers its front face with its flippers
if they open their mouth while "yawning"
they speed up their swimming
if they plunge into deeper water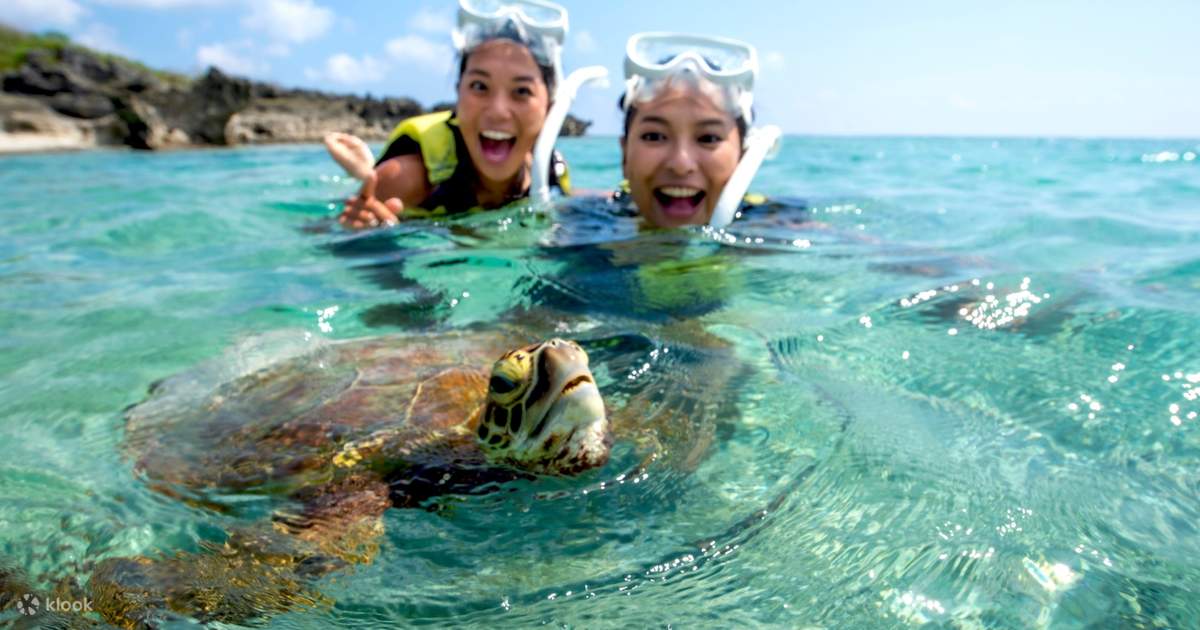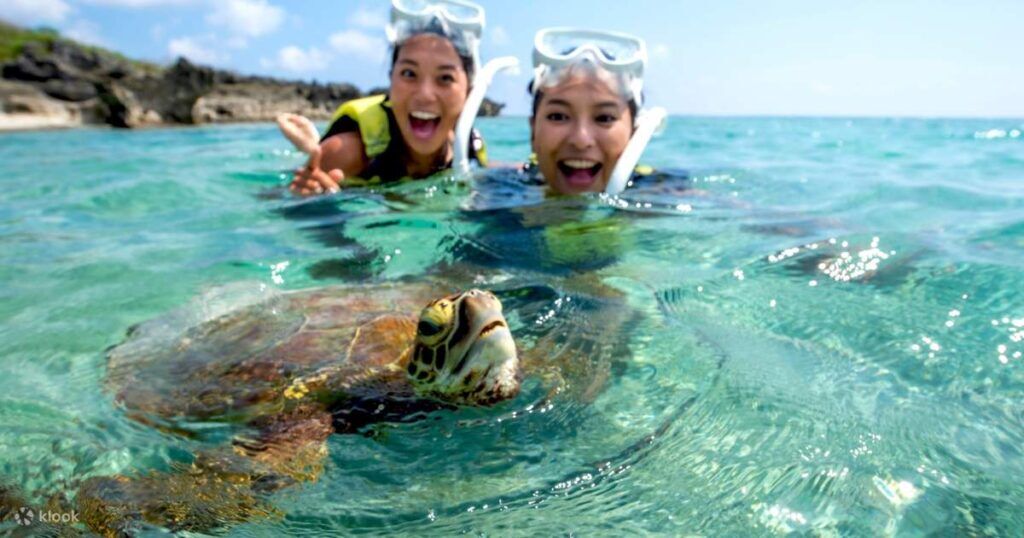 ---
---
---
CONCLUSION
The one and only thing left to do is go into the ocean and interact with a few of these stunning sea turtles now that you have explored all of your options.
Enjoy yourself, be careful, and always show respect for our aquatic buddies.
On this wonderful snorkel experience on Oahu, take advantage of the rare chance to observe these uncommon species up close and swim calmly with them.
But don't forget!
Many factors put green sea turtles in danger. They are persecuted in some places, while water pollution has made their food supplies poisonous in other places.
Please apply reef-safe sunscreen, utilize reusable water bottles, and otherwise contribute to the preservation of our turtle population during your epic adventure.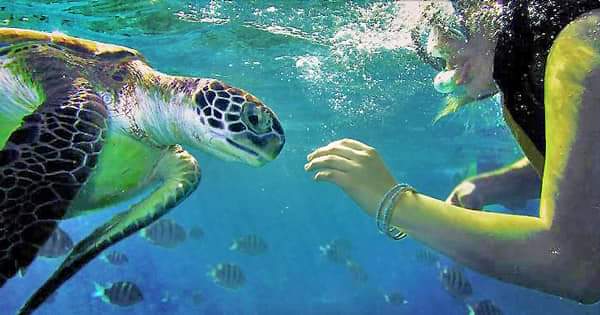 ---