The 16 Best Scuba Mask For Diving
A diving mask is an item of diving equipment that allows the swimmer to see underwater and also ensures his safety. The main selection criterion is that the mask should fit the shape of the face.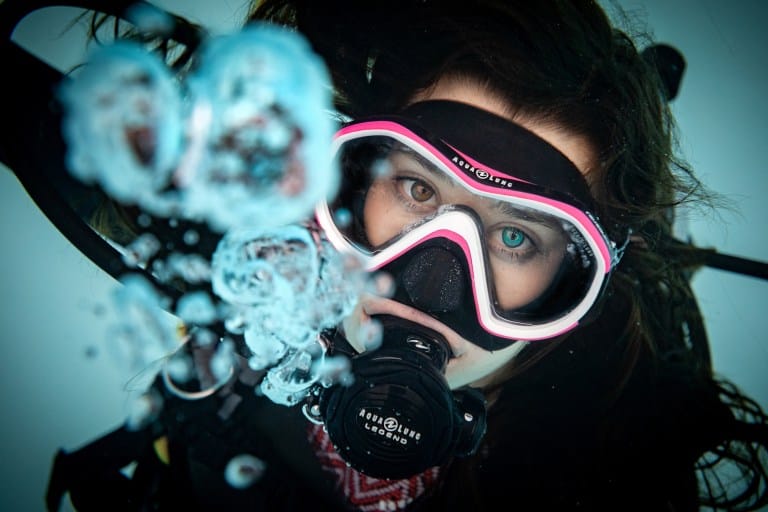 The human eye is not able to clearly reproduce information about objects in a more dense environment ie. water, An air space is required between the eye and the water to improve underwater vision.
The mask must be designed in such a way that the diver can breath through the mask by exhaling through the nose. This is necessary to prevent "squeezing" the face when the pressure of the external environment increases during immersion. A dive mask should have a separate soft nose protrusion to equalize the pressure in the air cavities of the ears, or, as divers say, to purge the ears.
The dive mask consists of the following components :
• Seals – a soft silicone body, which ensures a tight fit of the scuba mask
• Housing – to locate the lenses
• Ordinary lenses or dioptric lenses for vision correction, All glass fitted must comply with relevant safety standards and marked TEMPERED or SAFETY glass
• Fastening strap with buckles.
• A built-in valve for removing water (we note right away that a mask with a valve in the nose is not suitable for diving, with the exception of those with valves located in the mask frame)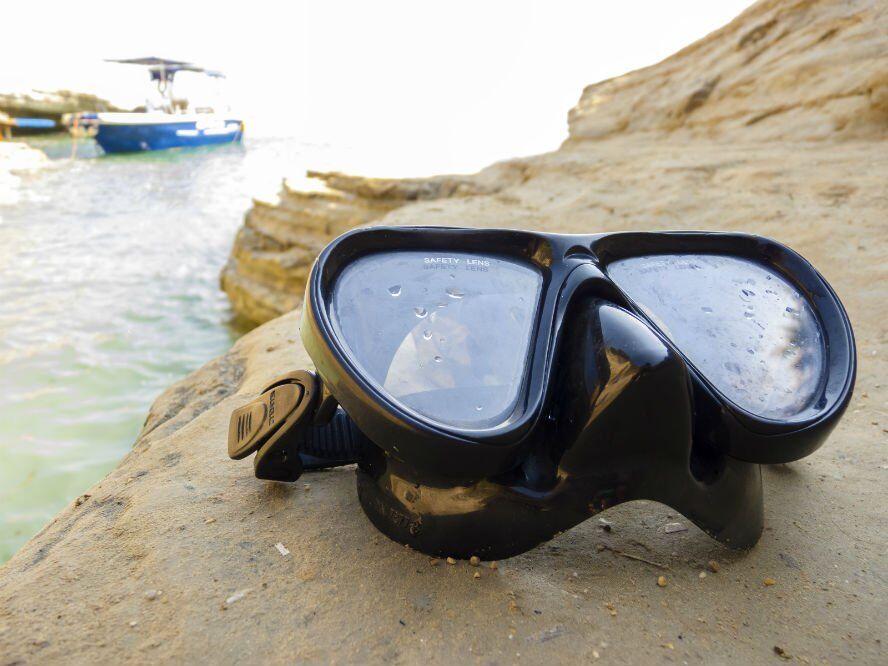 There is a wide choice of scuba diving masks , you can choose from numerous colours, shapes and manufacturers. The space separated by the divers mask and the water is called the sub-mask space, this space is filled with air. Naturally the larger this space is the greater the buoyancy and the more difficult it is to keep the body horizontal or head down.
It is important to keep in mind that the ideal scuba masks offer maximum visibility with a minimum volume of the mask space, therefore it is better to choose a mask with a small scuba masks space volume (about 200 mm3).
The wider the angle of view the better, the angle of view depends on the size and shape of the glass.
The hydrodynamic resistance depends on the size and shape of the mask. The smaller this value, the more comfortable the mask.
To compensate for human vision impairments, two-lens scuba masks with replaceable lenses have been developed and produced. The independent glasses are selected for each eye separately.
At the factory, all scuba masks are equipped with ordinary glasses, which can be replaced with dioptric glasses, matched to your eyes. Now there is no need to look for special contact lenses with micro-holes to compensate for pressure.
Scuba diving masks with valves integrated in their lower part are available. To purge scuba mask from water, this can be done without using your hands, just by exhaling with your nose.
Many manufacturers produce diving masks with a convenient quick adjustment mechanism for the fastening straps and with pivoting buckles. Such a mechanism allows you to tighten or loosen the belt without removing the mask and easy to adjust the angle of the belt position.
Best Choice
My Choice
Best Price
My list of the 16 best diving scuba masks:
HOLLIS M1 Mask(Best Scuba Mask for Big Noses without Frame)
Packed with mask features, divers that are well-endowed in the facial region get a spacious fit in this super-soft dive mask.
The Hollis M1 scuba mask is well-loved thanks to its frameless design, which makes it lighter and less bulky. But aside from that, it offers excellent visibility underwater.
This high-quality scuba masks sit closer to the face for better downward and peripheral visibility, plus it provides a distortion-free field of view with its wide, crystal-clear Saint-Gobain Diamant tempered glass lens. It also boasts of low iron content to reduce the green tint that is usually present in glass, ensuring that you get plenty of light.
Featuring a double-feathered, 100% pure silicone skirt and wide, split-style strap with quick-adjust buckles, this dive mask ensures a perfect watertight seal and supreme comfort. It even comes in all black, thus delivering a sleek and minimalistic look that many divers look for in their gear.
The Hollis M1 makes for a great primary and secondary dive mask, as it's super easy to stash in your BCD pocket or dive bag.
But…. Frameless mask doesn't have the durability of solid frame masks.
This mask is also a little pricey, but as above you'll look like a Navy SEAL, so it's probably worth it.
Hollis M1 Mask without Frame
Hollis M1 Mask without Frame
SCUBAPRO Solo One Window Dive Mask
As one of the most established brands in scuba gear, it's no surprise that Scubapro has two entries on this list.
The Scubapro Solo One Window Dive Mask has a single lens from tempered glass that is specifically designed to optimize the wearer's field of vision, as well as a hydrodynamic design that eliminates drag when in water. Other notable features include a non-slip, wide split-style mask strap with adjustable buckles, a one-hand nose pocket that's easy to reach, and a crystal-clear silicone skirt (with double-feathered edge sealing) that fits even divers with facial hair.
Scubapro ensures high-quality build and durability with this extraordinary dive mask, which can easily be any diver's favorite scuba mask for many years to come. Then again, for nearly $120 at the time of writing, one can only expect the best. So if you're looking to invest in a tried and tested, high-performance mask that lasts, the Scubapro Solo is worth checking out.
Scubapro Solo One Window Dive Mask
Scubapro Solo One Window Dive Mask
TUSA Freedom HD Scuba Diving Mask M1003
The first thing you'll notice about the TUSA Freedom HD Mask M1003 is its single, super-wide lens, which is made of tempered glass and features a low-profile design for a large, unobstructed field of view. However, it's most winning attributes are its superior comfort and reliable leak prevention, which is why many divers consider it one of the top scuba masks on the market today.
It features a 3-D wide split strap that is designed to follow the natural curvature of the head for a snug but comfortable fit, plus a round edge, low-friction, cross-sectionally shaped skirt that ensures a soft planar fit and eases pressure while reducing the resulting marks around the eyes. It also has sturdy buckles that can rotate 180 degrees, as well as a sizeable nose pocket for ear equalization.
At way under $100, it's definitely one of the best high-quality scuba diving and snorkeling masks for the money.
TUSA Freedom HD Mask M1003
TUSA Freedom HD Mask M1003
AQUA LUNG Reveal X1 Dive Mask
Although it's a little more expensive than some of the other mid-price options, the AquaLung Reveal X1 is a rather excellent quality mask.
The double feathered skirt is made from a new grade of silicone and features Advanced Fit Technology to give a comfortable seal; one that is both stable and leak free.
This mask is a single lens design with a large, crystal clear lens in a classic inverted teardrop shape – resulting in a superb field of vision. The lens is made from tempered glass, so it's shatterproof.
Furthermore, an innovative strap better forms to the curvature of the wearers head than most mask straps, whilst quick fit one touch button buckles allow for easy to adjust, even when wearing thick gloves.
There's a number of very slick double colour options available for the frame, whereas the super soft silicone skirt is available in both clear and black.
Because it's framed, the AquaLung Reveal X1 is an especially good choice for anyone who struggles to find a good fit. It's high volume also makes it less likely to leak and so it's also a good choice for those with beards or moustaches!
For anyone in search of a truly awesome scuba mask; one that's framed and has high internal volume; the AquaLung Reveal X1 is a stellar option – it's a little pricier than other mid-range dive masks but you'll notice the higher quality. It feels like a high end scuba mask!
AquaLung Reveal X1 Dive Mask
AquaLung Reveal X1 Dive Mask
ATOMIC Aquatics Subframe Scuba Diving Mask
The Subframe's internal frame is molded into the skirt, with the stainless-steel nose piece holding the lenses in. The design lends a sleek appearance—"Ferrari good looks," one test diver put it.
The Subframe had performance to match, earning very good scores for comfort andwide field of vision, and an excellent score for dryness. Test divers liked the easy operation of the buckles, which attach to the skirt with flexible tabs. Chosen as a favorite by more test divers than any other mask in its category, the Subframe is our Testers Choice for dual-lens masks.
Atomic Aquatics Subframe Scuba Diving Mask
Atomic Aquatics Subframe Scuba Diving Mask
ATOMIC Aquatics Venom Dive Mask
Strong option for guys with beards.
This is a single-lens diving mask but has a high bridge, with teardrop shapes on either side, to provide an ultra-wide field of view. The silicone skirt has a self-named 'Gummi Bear Seal', which sounds as comfortable as it is, and the soft silicone gives an excellent fit for those with facial hair.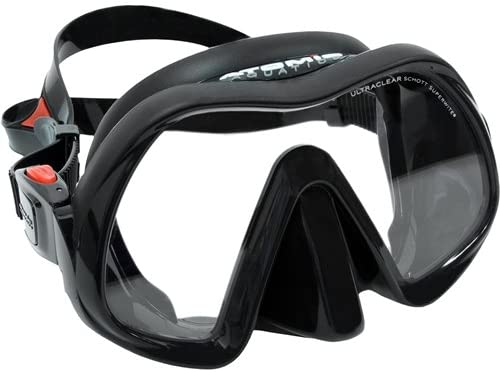 The high-end Schott Superwhite glass (imported from Germany no less) allows even more light to penetrate the single lens than Ultraclear glass, giving impressive optical quality. The frame is halfway between a fixed and frameless mask so it's less bulky but still well-supported. Overall, Atomic Aquatics has summed it up themselves: 'wicked look, heavenly vision'. The hipster's friend.
This is a pricey scuba masks, but you're paying for the high-end, high-quality glass in the lenses, which can ultimately make every dive a little nicer.
Atomic Aquatic Venom Dive Mask
Atomic Aquatic Venom Dive Mask
OCTOMASK Action Diving/Snorkelling Mask with Action Camera Mount
If you want hands-free filming, this is your best choice – a genuinely good dive mask with a dedicated camera mount.
All GoPro models, including the new GoPro Hero 10, as well as all prior models, are compatible here.
Featuring an ultra-soft silicone skirt produced from the highest-quality silicone for the finest possible fit.
When you go scuba diving or snorkeling, the included aluminium thumbscrew and carry bag with mask make storing and attaching your GoPro camera a breeze.
Mask incorporates an adaptor on the frame for easy assembly of Action Cam cameras. The frame has been reinforced in thickness in the assembly area of the camera and includes by default the screw with fixing knob and camera inclination adjustment.
The Octomask Action Diving/Snorkelling Mask is designed to have an action camera attached to your mask throughout your dive, useful for those that want to film from a first-person perspective but need their hands free for other things – still camera, reef hook, or whatever. This mask is a genuinely comfortable and functional scuba mask as well as a solid camera mount that doesn't increase drag too much as you swim.
Octomask Action Diving/Snorkelling Mask with Action Camera Mount
Octomask Action Diving/Snorkelling Mask with Action Camera Mount
CRESSI Big Eyes Evolution & Alpha Ultra Dry
This Mask is comfortable during long dives, it doesn't leak, it's affordable, and the large dual-lens glass design maximizes peripheral vision.
Coming from a brand that specializes in water sports and diving equipment, the Cressi Big Eyes Evolution dive Mask guarantees exceptional quality despite its affordable price tag. For just under $100, you get a mid-range dive mask that features a low volume design to make you more hydrodynamic underwater; raked dual-tempered glass for durability; and a translucent, double-feathered silicone skirt that allows more light into the mask.
It also has an ultra-comfortable fit (especially for those with small and narrow faces) and doesn't leave a mark around the eyes, thanks to its super-soft, hypoallergenic silicone rubber material and wide split strap.
What many love about this scuba masks (aside from its price and the features mentioned above) is that it offers a wide field of vision—hence the name "Big Eyes"—that is 25% larger than the Cressi Matrix, which is another popular (but less expensive) option. Also, it is designed to work with separately available prescription lenses.
The Cressi Big Eyes is a low-profile twin-lens dive mask with a rigid frame. The 'Evo' part is a reinforced silicone skirt design that makes it adaptable and comfortable to most face shapes. The thin inner seal around the nose pocket also seals pretty well against stubble apparently, should you be on holiday and enjoying your 5 o'clock shadow.
The reinforced part of the seal stops the mask from compressing underwater as you descend, so you can avoid looking like a raccoon upon surfacing. The classic Cressi teardrop lens design gives a great field of vision. This is one of the best-selling scuba diving masks for Cressi, and it's favored by many scuba diving professionals.
These scuba masks are available with HD mirrored lenses with several different optical corrections from -1 to -6. as well as offering comprehensive sizing options.
Big Eyes Evolution & Alpha Ultra Dry
Big Eyes Evolution & Alpha Ultra Dry
CRESSI Calibro&Corsica Dive Mask with Foldable Snorkel(Best Scuba Diving Masks with Anti-Fog Dive Effect)
Great-looking mask with specialist anti-fogging tech. Good for snorkelers and free-divers too.
The Calibro & Corsica is the combination of 2 high-end products developed and manufactured in Italy designed for freediving and scuba diving lovers.
The first and the only mask in the world equipped with the exclusive Fog-Stop System that drastically reduces the fogging on the lenses.
The Calibro is equipped with Cressi's patented Integrated Dual Frame Technology which offers exceptional field of vision and perfect sealing.
Designed for an extremely hydrodynamic and compact shape and a particularly wide lens, maintaining the mask extremely close to the face.
The Corsica is very light and comfortable. A large diameter snorkel tube provides unobstructed ease of breathing. Soft bendable snorkel tube to maintain proper and comfortable positioning.
Anatomical hypoallergenic silicone mouthpiece provides extreme comfort during prolonged use. It is ultra-flexible and can be folded and stored in the BCD pocket.
The Calibro & Corsica is designed and made in Italy by Cressi, a brand pioneer in freediving, spearfishing and scuba diving equipment since 1946.
Cressi Calibro&Corsica Dive Mask with Foldable Snorkel
Cressi Calibro&Corsica Dive Mask with Foldable Snorkel
IST Pro Ear Scuba Masks(Best Scuba Diving Masks for People with Ear Issues)
This mask was designed specifically for people who have trouble equalizing, or tend to get ear infections, and for cold water divers who don't like wet ears in general. The IST Pro has integrated ear pockets that help you equalize and keep your ears dry while diving. Each ear pocket connects to the inside of the mask via a hose which means they equalize at the same internal pressure as the inside of your dive mask. The soft silicone double skirt provides a comfortable fit for both your face and your ears.
Granted, this is an odd-looking mask, but if you have sensitive ears this could be a game-changer. One of my dive pro friends notes that "Despite making the wearer look like a WWI fighter pilot, I do hear good things from those who suffer from ear problems when diving."
IST Pro Ear Scuba Masks
IST Pro Ear Scuba Masks
OCEANIC Cyanea Ultra Scuba Diving Mask
The Oceanic Cyanea is another superior-quality mask that offers plenty of visibility with its two wide lenses. The ultra-clear, tempered safety glass windows ensure significantly reduced impurities to allow more light in and to make colors appear more vibrant.
The lenses are also slightly angled/slanted for better downward or peripheral vision, which is helpful if you tend to clip your submersible pressure gauge on your chest (meaning you'll need to glance down often) or when you need to take notes during your dive.
The scuba diving masks skirt is made of high-quality liquid silicone that features a ridged, double-feathered edge to avoid creasing and ensure superior sealing around the face. The mask strap, which is also ski goggle-inspired, is made of UV and chlorine-resistant elastic material with a silicone grip that's easy to adjust for a comfortable fit. It even includes a fixed, stretchy loop to accommodate a snorkel, eliminating the need for separate (and bulky) snorkel clips.
Oceanic Cyanea Ultra Scuba Diving Mask
Oceanic Cyanea Ultra Scuba Diving Mask
OCEANIC Shadow Frameless Mask (Great for Scuba Diving and Snorkeling)
These masks come in two versions for different face shapes.
These are frameless mask design which means they're more compact and create less drag underwater due to being low profile.
Also, frameless scuba diving masks have low internal volume which makes them easier to clear and perform well at depth as there's less bulk for increased water pressure to push against. (Read about Mask Designs here).
Shadow Masks have a single lens design (tempered glass) that offers a wide field of vision, whilst the soft skirt is made from 100% soft silicone for ideal comfort and fit.
One slight frustration is that the plastic buckles are somewhat bulky and can dig into the side of your head if you wear a hood when scuba diving. However, no hood = no problem!
In many ways, the Oceanic Shadow Mask is similar in terms of overall quality to the Tusa Freedom Masks; but by being frameless they meet the needs of people who prefer scuba diving masks of the frameless variety.
If you're one of those people and you want to spend within mid-range, than the Oceanic Shadow is the best low volume dive mask for you! It is also a favourite choice among many Diving Squad members.
Oceanic Shadow Frameless Dive Mask
Oceanic Shadow Frameless Dive Mask
SCUBAPRO D-Mask Scuba Masks
With a wide field of vision and comfortable skirt available in three sizes, the low-volume D-Mask is suitable for all types of diving. The mask comes standard with an elastic strap with integrated snorkel mount that uses a quick disconnect to attach to the frame. The frame can be removed without tools to easily swap the UV lenses for prescription lenses.
Scubapro D-Mask Scuba Masks
Scubapro D-Mask Scuba Masks
SCUBAPRO Spectra Mini Scuba Masks with Mirrored Lens
The Spectra Mini's mirrored dual lens mask design delivers a wide, glare-free view of the underwater world while reducing volume.
Lenses are made from tempered glass for safety and long-term durability, and the ultra-clear no-tint glass delivers optimal clarity.
The Spectra mask has been around for a while (like, a decade), and it's still super popular. Recently, Scubapro has upgraded this classic mask with mirrored lenses. It's made an excellent dive mask even better.
The framed design means it holds its shape well during storage and enhances overall durability.Designed to fit smaller faces, the Spectra Mini uses a smart double-sealed soft silicone skirt for optimum comfort.
Buckles attach to the skirt to optimize strap angle for achieving that perfect fit, plus they enable the mask to be folded flat for easy packing.
Overall the Spectra dive mask has a practical and stylish design and is deservedly highly-rated in both its mirrored and non-mirrored lens iterations.
But the Spectra mask is designed for smaller or narrow faces, so be cautious if you fall into the 'generous face size' or 'regal nose' categories. If you opt for the mirrored lenses, it's harder for people to see your eyes – this may be positive or negative depending on how patient you are with your buddy. The mirrored finish is on the outside of the mask, and is softer than the glass, so it can easily scratch; the Spectra benefits from a bit of care both in use and during travel.
Scubapro Spectra Mini Scuba Masks with Mirrored Lens
Scubapro Spectra Mini Scuba Masks with Mirrored Lens
SCUBAPRO Synergy Twin Trufit Dive Mask
Remember what we said about finding the right fit? As its name suggests, the Scubapro Synergy Trufit dive mask creates a perfect, watertight (yet comfortable) seal on the face with its soft, double-feathered edge silicone skirt and wide, split-style silicone rubber mask strap.
Regardless of the shape or size of your face, this mask's unique Trufit ribbing technology contours the face for a comfortable fit and seal, ensuring that you won't ever have to worry about water leakage. It also has two wide windows made of ultra-clear, dual-tempered glass that is free of the green tint (from iron residue) found in standard glass, which can end up distorting colors and limiting the light that enters the lenses. These lenses also extend down to the cheekbones for optimum visibility.
Scubapro Synergy Twin Trufit Dive Mask
Scubapro Synergy Twin Trufit Dive Mask
At just under $130, you definitely can't go wrong with this high-quality mask.
TUSA Freedom HD Scuba Diving Mask Tina
The Tusa Freedom HD Tina mask is one of TUSA's latest products to be designed using Freedom Technology, which provides a set of advanced mask features to achieve an excellent fit as well as increased performance and comfort for virtually every user.
For just under $75, you get their signature, dimpled skirt surface with ridges and silicone of varying thicknesses to reduce friction. Its double-feathered, round edge skirt helps reduce creasing on the face while the patented 3D strap follows the natural curve of the head to provide a truly snug fit. This high-quality, low-profile scuba mask also features a single tempered glass window with a crystal accent, making it an affordable choice for those who are looking for increased visibility and style.
TUSA Freedom HD Scuba Diving Mask Tina M1002
TUSA Freedom HD Scuba Diving Mask Tina M1002
FAQ – Frequently asked questions about the best Scuba Diving Mask
How long does a scuba masks last?
An important thing to always remember when purchasing a mask is that the lifespan of it will depend on how well you take care of and store it. One way to ensure your mask lasts for years upon years would be to purchase one made with tempered glass, high-grade silicone, or another strong material like these. A good quality mask such as this should last 10+years if taken proper care of
How would a scuba mask fit?
Scuba masks should fit your face just right to provide a watertight seal but also be comfortable to wear. A mask that is too tight will feel uncomfortable and frustrating, while a mask that is too loose won't create the necessary seal, causing frequently leaking masks.
The best way to try on a scuba mask is to lean your head back, place the mask on (without the strap). Inhale lightly, then bring your head back to neutral. If it falls off, it's too loose. If it feels like it's squeezing your face, it may be too tight.
My scuba mask doesn't fit well.
How can I solve this?
It's tempting to fix a mask that doesn't fit by over-tightening the strap or squeezing it into your face. However, this won't fix the issue long-term.
When you do this, you will still be uncomfortable in your mask and you could risk getting bruising around your face. The best thing to do is get a new mask and make sure it fits correctly.
Choosing the right mask for you is a major step in your scuba diving journey. There are many features to consider before making this purchase, but as long as you take care of it properly and store it correctly then there's nothing that can stop you from having an amazing first time underwater experience!